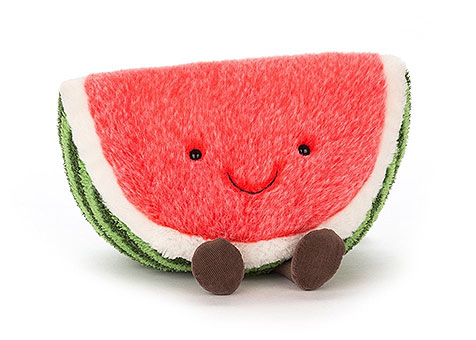 A Moment of Pleasure
I looked up and our eyes met. I smiled at him. He didn't smile back but his gaze stayed locked with mine. Then he quickly took the few steps between us and stopped abruptly by my side.
He turned his gaze to the sales rack I had been looking through, reached up well over his head, pulled out a watermelon slice and handed it to me without saying a word. Then he watched me closely.
I guessed his age to be about two years old and what he handed to me was a stuffie in the shape of a watermelon slice. If you have ever touched a Jellycat stuffie, you know that they are (in my opinion anyway) one of the softest, most huggable toys in existence.
"Thank you so much! I exclaimed," beaming at him. "How did you know that watermelon is my favorite fruit?"
He gazed up at me, saying nothing.
"Time to go." His grandparents were standing a few feet away, carefully watching our exchange.
"Bye," I said as he turned and walked away. "Thank you for the present."
I watched as he went to his grandma and then he suddenly turned around and pointed at the stuffie in my hand. He walked towards me, continuing to point. Thinking that he wanted to take it with him, I held the watermelon slice out for him. Hoping there wouldn't be a meltdown if grandma and grandpa said he couldn't have it, I braced myself but I did not expect what happened next.
Instead of taking the stuffie from me, he leaned into my leg and pressed his cheek to the watermelon. Closing his eyes, he gently rubbed his face against the soft toy, the most divine expression of pleasure on his face. Then he gave it a hug and without a word or a second glance he walked over to his grandparents and I watched them leave the store.
I carried that stuffie around the store with me for the next half hour, reliving our brief exchange, grateful for the reminder to stay open to moment of pleasure and unexpected joy.
In these days of weariness, fear, upheaval and uncertainty, I hope that you can find small moments of pleasure, moments that renew your spirit and remind you that beauty is always present and pleasure does not have to be complicated.